>

A few years ago, when I was blogging over on the old blog, I watched on the sidelines as some of my favorite blogs participated in a little event called Eat to the Beat (EttB). EttB was hosted by Elly from Elly Says Opa and it called on bloggers to tap into their inner creativity by relating a song and a food or drink. How fun is that? Like I said though, I was watching from the sidelines, just call me a whimp. But when Elly announced that she was bringing it back for her 5 year blog anniversary, I couldn't just sit on the sidelines.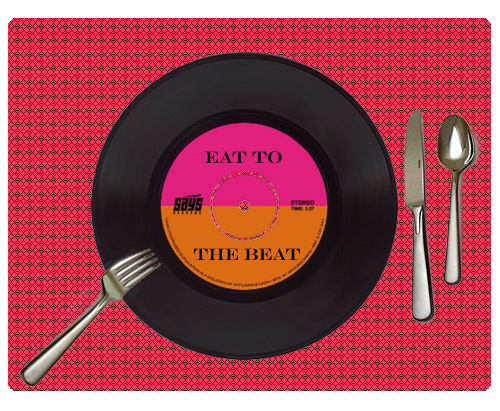 Deciding to participate in the event was the easy part. Coming up with a good idea, not so easy. First, I kept thinking of really weird songs, and not coming up with anything to relate them to food. Then I thought it might be easier to make a dish and then try and match it up with a song. Which oddly enough led me to a song with the name of my dish in the title… and "explicit" lyrics. Not really the vibe I was going for. So I took a little break from thinking about it.
Realizing the deadline was fast approaching, I had to start thinking again. Then it hit me like a ton of bricks! This was one of my favorite meals this month AND the song is one of Jesse's favorites and one I also like. Oh, and no explicit lyrics. Ready for the reveal? For my EttB entry I made Island Pork Tenderloin and the song is 'Islands' by the XX. Sounds like fun? There's still time to participate! Deadline is November 27th! Read more about it by visiting Elly's blog!
This pork is possibly the best pork tenderloin I've ever had. The meat could be cut with a fork it was so tender and the flavors are dynamic with just a touch of sweet and heat. I can't wait to make it again when Jesse's back from China! In the meantime I'll listen to this song and send him pictures of delicious food with the caption "Wish you were here." Ok, that last part might be a little mean, I'll just leave the pictures caption-less. 🙂

Island Pork Tenderloin
Ingredients
*2 pork tenderloins (2 1/4 – 2 1/2 pound total) trimmed
2 tablespoons olive oil
Spice Rub:
2 teaspoons salt
1/2 teaspoon fresh ground pepper
1 teaspoon ground cumin
1 teaspoon chili powder
1 teaspoon ground cinnamon
Glaze:
1 cup packed dark brown sugar
2 cloves garlic, finely chopped or pressed
2 Tbsp Pineapple juice
Splash of Tabasco sauce
*I cut this recipe in half when I made it, halved it would feed about 3 people.
Directions
Preheat the oven to 350 degrees.
Combine all of the ingredients for the spice rub then rub into the pork tenderloins.
Heat 2 tablespoons of oil in an oven-proof skillet over medium-high heat. Once the pan is hot, sear the tenderloin on all sides for a total of about 4-5 minutes. Remove from heat, leaving in pan.
While the tenderloin is browning, stir together the ingredients for the glaze. Spread the glaze over the tenderloin and transfer the skillet to the preheated oven. Roast until a a thermometer inserted into the meat reads 140 degrees, about 20 minutes. Remove the meat from the oven and tent with foil, let stand for 10 minutes before slicing and serving.
Adapted from Pennies on Platter, originally from The Gourmet Cookbook